Do Animals Have Emotions?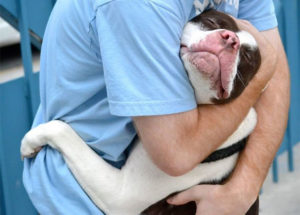 Short answer is yes!
We've been greeted with happy whines, jumps, puppy kisses, and even hugs from pooches that were so happy to see us. We all know jumping is rude, but what does it mean when a pup only jumps on you in a crowded room full of dogs and people? You wonder if they really remember you and are happy to see you. We feel special when they know they trust us for playtime and care.
We talk to all pets as if they could respond back. We tell them to smile while we take pictures, we ask them if they want to go for a walk or if they're hungry, thirsty or want a treat. We tell them their mommy/daddy misses them and they'll be home soon. We get the happy greetings and the not-so-happy greetings. Cats and dogs sometimes have a personality of drama kings and queens. Whether its funny or heartbreaking, a pet giving the cold shoulder upon arrival is because they miss you very much.
We try very hard to keep the same people with the same pets. We know sometimes things don't always go according to plan, but we always have another person or two as a back-up with whom the pets are familiar. Vacations, last minute schedule changes and emergencies pop up in everyone's life at some point. Our goal is to keep the pet (and you!) as comfortable as possible at all times and make sure they have exactly what they need when they need it!