Get To Know Us: Paul Taupier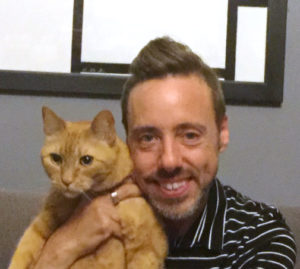 Paul Taupier – Assistant Manager, East Haven Area
How long have you worked for WLTDO: Since 2018

What's your primary role within the company?
Assistant Manager

Do you have any secondary roles within the company?
Rapper, comedian, tall tales specialist, horror movie enthusiast. Oh, you meant for the company? I work along side Jess as her assistant and help with scheduling, answering phone calls, and necessary fill-ins.
What towns do you service?
East Haven, Branford, Guilford, Madison and Clinton.
What previous experiences/specialties have you had working with animals?
I am a cat whisperer! I train cats to do tricks. My cats currently sit, shake hands, sit up, speak on command and lie down.
I am also an expert adventurer.

Do you currently have any pets?
I've had tons of pets over the years including free-range, litter trained house rabbits, dogs, chickens, and a squirrel. Currently I have two cats, Oscar and Baron.