Get To Know Us: Nikky McCarroll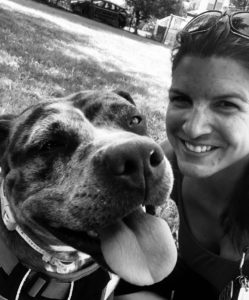 Nikky McCarroll – Manager, Branford Area
How long have you worked for WLTDO:
I've worked for WLTDO since 2018

What's your primary role within the company?
I'm the Branford Area Manager

Do you have any secondary roles within the company?
I answer phones and emails and conduct initial Meet & Greets. I also do scheduling and handle any marketing or events that come my way.
What towns do you service?
Branford, East Haven, New Haven and North Haven and I also help as needed in Guilford and Madison.

What previous experiences have you had working with animals?
I worked for another dog walking company until she sold off that portion of her business to WLTDO. I was manager of that company for three years.
In addition to cats and dogs, I've also cared for rabbits, fish, geckos, birds, alpacas, etc. I administer medication orally and also give injections. I'm also pet CPR certified.

How many pets have you had?
I currently have one dog Sarge, who was re-homed to me from one of my dog walking clients, and two cats that I rescued from the East Haven Animal Shelter.

Additional facts about me:
I love to run, so I always enjoy a good running buddy. My favorite dog walking season is fall so I can take these pups on hiking adventures. 🙂
I also have three human children ages 16, 13 and 11