Get To Know Us: Jessica Dupuis-Kolb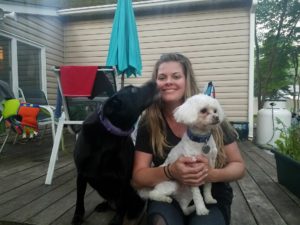 Jessica Dupuis-Kolb – General Manager
How long have you worked for WLTDO:
I've been with WLTDO since 2018 and I love it.
What's your primary role within the company?
As the General Manager, I am Rachel's right-hand and help with whatever needs to be done.
Do you have any secondary roles within the company?
My main roll is to oversee the schedule, help with staffing needs and issues, perform Meet & Greets with new clients, and assist current clients with their needs and questions.
What towns do you service?
I help cover wherever I am needed, but mainly between Guilford and Old Saybrook.
What previous experiences have you had working with animals?
I've always had my own pets, and helped with pet sitting with family and friends over the years. I'm experienced at administering meds and insulin injections and became Pet CPR and am pet first-aid trained through WLTDO.
How many pets have you had?
At home there are currently 2 dogs, 4 yr old Lhasa Malti-poo, and a 1 yr old Saint Pyrenees. We also have another Saint Pyrenees puppy on the way!
Additional facts about me:
Aside from cats and dogs, I have experience with horses and ponies, bearded dragons, chickens and some exotic birds.
If my house and bank account were bigger I would have a whole farm!