Get To Know Us: Christine Snyder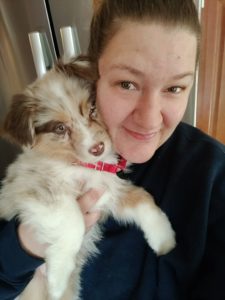 Christine Snyder – Assistant Manager, Mystic Area
How long have you worked for WLTDO:
Since May 2019

What's your primary role within the company?
Assistant Manager for the Mystic area

Do you have any secondary roles within the company?
I'm the Editor for our monthly newsletter and Blog section on our website. I'm working on marketing and promotions for the Mystic Area since it is still up-and-coming.

What towns do you service?
East Lyme, Groton, Waterford, New London, Ledyard/Gales Ferry, Mystic, Stonington, North Stonington and Pawcatuck! I occasionally cover for Essex, Ivoryton, and Old Saybrook as well.

What previous experiences have you had working with animals?
Ever since I was five years old I've dreamed of working with animals. I was the neighborhood pet sitter when I was younger. In 2018, I seized the opportunity to become a Certified Veterinary Assistant and graduated in April 2019.

How many pets have you had:
I've always had animals in my life, at least a dozen cats, 3 dogs, too many fish to count, hermit crabs, and a Leopard Gecko. My current pets are Lea the Leopard Gecko, Murphy, the Boston Terrier and a handful of fish.